Snogging the Wall
How do you survive lasciviously when you're broke? How can you get together with someone when you flirt through a screen? More importantly: How can music respond ecstatically to an uninvited cockpic?
The photo-ambient installation Snogging with the Wall is a mini Guide of Erotic Survival – a manifesto of lewd polemics against a fear – that tears up your pocket – and illuminates your wall.
Alexino Piravlos and Giannis Papaioannou aka ION interweave photo, sound and prose in order to create a map of analog sound waves, hussy poetry and stellar dust. Press the play button and listen: the new porn is a flight to chaos.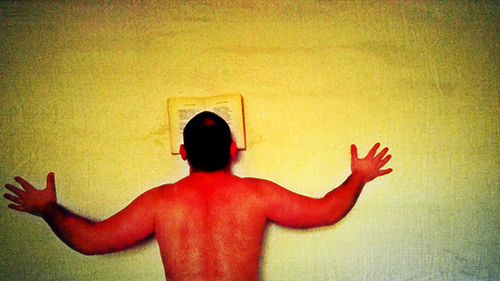 "TO ENJOY ALEXINOS PIRAVLOS WITH MUSIC BY ION INSTALLATION                  
PLEASE WEAR THE WIG (CAREFULLY) AND ENJOY WHILST LOOKING AT HIS PHOTOS"
LINKS :   Alexinos Piravlos         ION
ALEXINOS IN 2017 || 2018 || 2020